Who is Jamaat-e-Islami's Chandni Shah?
Karachi, a bustling city in Pakistan, is taking a major step towards inclusion and representation in the upcoming city council elections as, for the first time, transgenders will get representation in the Karachi Municipal Corporation (KMC).
Among the candidates for positions in the council, Muhammad Junaid, popularly known as Chandni Shah, has attracted public and media attention.
Shah, a prominent transwoman and transgender rights advocate, has been finalized as a city council member by Jamaat-e-Islami (JI), a religious-political party.
In a moment of triumph, Shah announced his official nomination as the representative for the transgender reserved seat of the KMC City Council.
This historic achievement represents an important milestone in their ongoing journey towards visibility and empowerment for transgender people in Pakistani society.
Expressing gratitude for Jamaat-e-Islami's trust and support, Shah praised the party's progressive stance and commitment to inclusion. Jio TV.
He said that by offering this invaluable opportunity, Jamaat-e-Islami has provided a platform for transgenders to actively participate in shaping the future of their beloved city of Karachi.
While Shah acknowledges her affiliation with the JI, she clarifies that she is not an ideological member of the party. However, she has been working closely with them, helping to raise awareness about transgender rights.
Shah praised the JI's stand on the Transgender Bill, which advocated protection of transgender persons from exploitation by those who misuse the legislation for personal gain.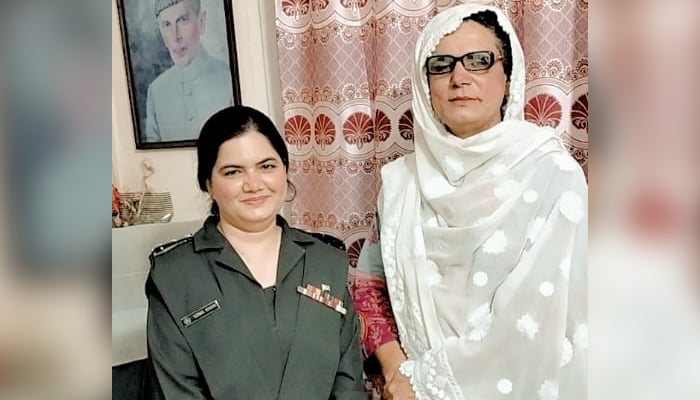 She strongly believes that allowing gender reassignments without proper vetting will be detrimental to the trans community and should not be allowed.
With his appointment as a City Council Member, Shah is determined to live up to the expectations of JI and raise the voice of his community and society at large.
It will focus on supporting transgender rights, raising relevant issues and working towards a more inclusive and equal future for Karachi.
In this historic election, another notable candidate emerged from the Pakistan People's Party (PPP).
Princess Rai, a transgender, has submitted her nomination papers for the second reserved seat for transgenders.
Roy expressed his excitement at the occasion, and was warmly received by the KMC staff during the submission of nomination papers.
KMC's city council reserves two seats for transgenders, currently PPP has 104 seats and Jamaat-e-Islami has a total of 87 seats. Each party is entitled to a specific seat, ensuring transgender representation in the Council's decision-making process.
The City Council, which consists of 246 elected union committees, will act as the voice of the people within the KMC.
These committees will represent the diverse fabric of Karachi's society, with seats reserved for women, youth, non-Muslims, labourers, persons with disabilities and transgenders. This holistic approach aims to ensure that marginalized groups have a platform to advocate for their rights and aspirations.
After finalizing the nominations for the specific seats, the KMC City Council will have a total of 367 members. These members will then proceed to elect a mayor and deputy mayor, indicating the democratic nature of the process.
Additionally, the Town Municipal Councils (TMCs), numbering 25, will also elect their Chairperson and Vice-Chairperson from among their members. This structure ensures that local governance is strong and grassroots representation is maintained across Karachi.
As city council elections approach, the presence of candidates like Shah and Roy marks an important step toward a more inclusive and representative democracy.
Their candidacies represent an important moment in Pakistan's history, marking the growing recognition and acceptance of transgender people as valued members of society.
With their unique perspectives and experiences, Shah, Roy, and others like them are poised to make a lasting impact, fostering a brighter and more inclusive future for the vibrant city of Karachi.