Tell a story you believe in: Anand Neelakantan on his latest book 'Nala Damyanti', working with SS Rajamouli and Rakeysh Omprakash Mehra, and more – Times of India
Indian fiction writer Anand Neelakantan This year is back with a new novel 'Nala Damayanti'. This romcom is a retelling of the timeless and lesser-known story of the Mahabharata. But did you know that apart from writing books and scripts for the screen, Neelakanthan is also a painter and actor? In this interview, he talks about his passion for storytelling, his experience working with famous filmmakers. SS Rajamouli and Rakesh Om Prakash Mehra, his new passion for acting and love for painting. Excerpts from the interview:
1. You have written epics for adults and children, and now 'Nala Damayanti' revisits the timeless story of the Mahabharata. What was the inspiration for writing this book?
I wanted to try my hand at writing a life-affirming, uplifting story from the Puranas, one that hinges not on devotion to God but on the choices and actions of humans. I also wanted to try my hand at a romantic comedy. I found both in Damayanti's story. All the heroes in my previous books, be it Ravana, Duryodhana, Bali, Sivagami or Kattappa, have been warriors. I wanted a different hero who used one's wits and reason to win, and I found that hero in Damayanti and her sidekick, Heminga, the golden goose. The battle is against Kali, the god of misfortune, and is an inversion of the classic fairy tale of a prince rescuing a damsel in distress. In my book, the princess rescues a man in distress and wins him over.
2. The story was initially written for audio format and later converted into a full-length story. What were the challenges in doing so, if any?
The audio format is similar to a stage play with many audio cues. When converted to a novel, it requires a complete rewrite and needs to be more visual. Both are different forms of literature and it's fun to dabble in different styles.
3. It's a rom-com–how easy or difficult was it for you to write in this genre?
Comedy is always difficult to write. It is one of the most difficult genres to write, and I wanted to take on the challenge to grow as a writer. I have never shied away from a writing challenge, and in script format, I have worked across most genres. But trying the same in a novel was a challenging experience.
4. The story is also told from Damayanti's point of view — did you find it difficult or challenging to write from a woman's point of view?
I don't believe that an author's gender matters when writing a character's perspective. Even while writing other novels, I have always presented many female characters and their perspectives. my'Baahubali' The series also had a strong female protagonist, Shivagami, and my short story collection 'The Women of Valmiki' is from the perspective of marginalized female characters in the Ramayana. It is as challenging or as challenging as writing from any character's point of view, human or otherwise.
5. In this story, a woman rescues a prince in danger–a character reversal from typical stories. This Mahabharata story has a feminist twist… What are your thoughts on it?
Nala is a variant of the traditional narration of Damayanti. This is a longing story based on Nala's separation from her lover. It is a cautionary tale of going against fate. However, my retelling is different. From Damayanti's point of view, the story takes on a different hue. This is not the story of an unfortunate couple but a woman who bravely fights against fate and wins. Meri Damayanti is life-affirming, and so is Rituparna, a prominent character, who enjoys life and does not believe in fate or destiny. Beneath the layer of a charming romantic comedy, My Take has socio-political layers on race, caste, inequality and gender issues.
6. You have worked with famous filmmakers like SS Rajamouli for the prequel books of 'Baahubali' and now you are co-writing 'Mahabharat'. Rakesh Om Prakash Mehra. How was your experience working with such renowned filmmakers in the industry? Anything in particular you admire about them/learned from them?
These are the legendary names of the Indian film industry. I learned from both of them the importance of a story that conquers everything. Tell a story you believe in, and tell it well. Rest will fall into place.
7. You've also tried your hand at acting — you've featured in TV series and commercials. Tell us a little bit about it–what inspired you to go from writing books to screenwriting and then appearing onscreen?
Long ago when I started writing, it was a hobby. Now, writing is how I make a living. And acting is my hobby. It was sheer chance that I got the role of an antagonist in a TV serial. I went to the set to monitor the dialogue, and the actor playing the role was not getting it right after many attempts. The director asked me to try the role, and I thought it would be fun. As I wrote the script, it was easy for me to get into the role, and I played the role. After that I got hooked on acting and started giving auditions. I have acted in two commercials so far. I hope a director or producer will read it and give me the next opportunity. I love to go wherever life takes me.
8. You also do cartooning and painting. Can you tell us a bit about–what kind of paintings you do, what's the inspiration for them?
I used to draw cartoons for Malayalam magazines decades ago. I still dabble a bit, doodling or scribbling caricatures of people I meet, but it's been a long time since I've done anything professionally. Painting has always been a hobby. I do landscape and portraits, but my skills are very basic and raw, as can be seen from the attached pictures.
Painting by Ananda Neelakantan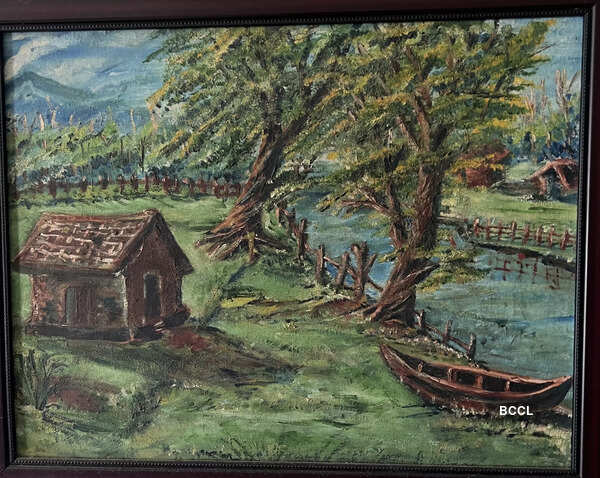 Painting by Ananda Neelakantan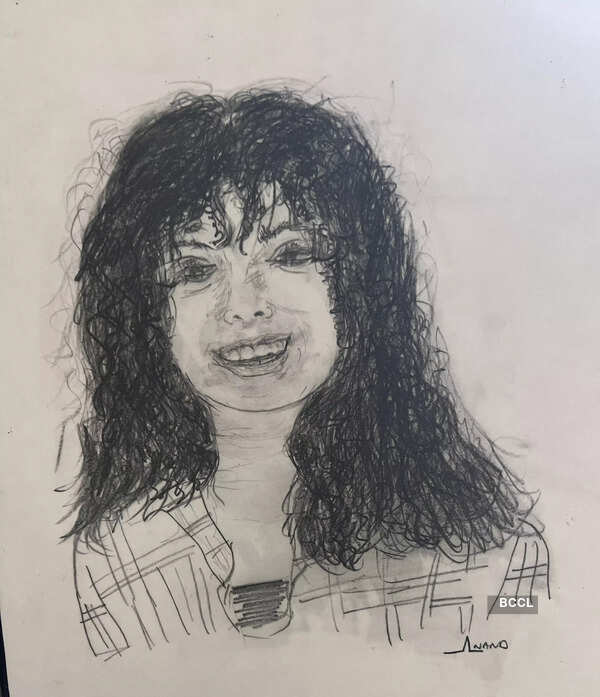 A sketch by Ananda Neelakantan
9. From writing books and columns to writing scripts for TV shows, to acting, painting, and being a life coach–you juggle many things. How do you manage to do so much?
I have specific hours to do specific things. My day starts very early, I get a lot of distraction free time. My life coaching is more about time management based on my own experience. I use the Indian Puranas, Ramayana and Mahabharata to teach life lessons.
10. And finally, what are you working on next?
There are many projects that I am working on. I have three audiobooks, one each on Shiva, Devi and Krishna coming through Audible. I have an audio show coming out with Storytell. I have a children's book, 'Mahi- The Elephant Who Flew Over the Blue Mountains' by HarperCollins coming out soon. I have another baby chapter book from Penguin. I have 'Many Ramayanas, Many Lessons', Life Lessons from the Ramayana soon to be published as a book. I have a non-fiction self-help book – 'The Asura Way: The Ravana path to Success' by Jaico Publications. On the OTT front, the second and third seasons of Taj, Zee 5 are sharing blood. I have a two-part film on Mahabharata directed by Rakesh Om Prakash Mehra. I have finished writing a business thriller directed by Rohan Sappi. My historical show is being telecasted on Swaraj Doordarshan and many episodes are yet to be telecasted. In addition to the aforementioned projects, which I have written and completed, I have a number of books coming out through Penguin over the next three years in both children's and adult spaces.