Remembering the Chowchilla kidnapping: A never-before-seen interview with a survivor
In the summer of 1976, three young men from wealthy families hijacked a school bus full of children in a small town. Chowchilla, California. The 26 children, ages 5 to 14, and their bus driver were on their way home from summer school when they were held hostage at gunpoint. It is believed to be the largest kidnapping case ever in the United States.
Judy Heffington was one of the kids on the bus. She was only 10 years old at that time. In a never-before-seen interview, Heffington spoke in detail about his memories of the terrifying experience.
"And this guy came up with a stocking to his head with a gun and said 'Open the door'… I've never been around guns. You only see bad guys in movies with socks on, so I know. That wasn't the case. Well … he held a shotgun to my stomach … I thought he was going to shoot me," Heffington told "48 Hours" on this week's episode. "Remembering the Chowchilla Abduction," Airing Saturday, March 18 at 10/9c* on CBS and streaming on Paramount +.
The kidnappers then drove the terrified children and their bus driver, Ed Ray, for more than 100 miles in two closed and dark vans before they were forced out of the van one by one.
Heffington recalled the moment. "They'd take the next kid out. And they'd close the doors. But when they opened the doors, you couldn't see them. I thought they were basically hitting us one at a time," she said. said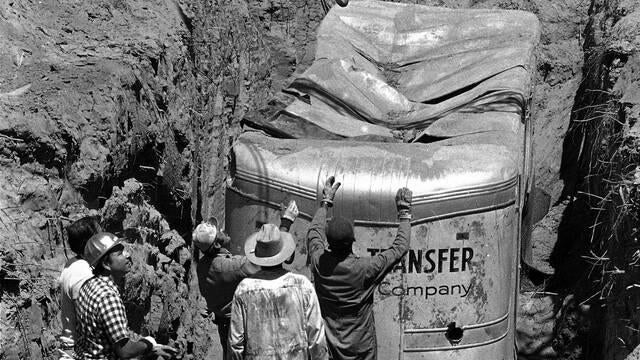 The kidnappers buried them alive in an underground truck trailer in a rock quarry. Remarkably, after enduring horrific conditions like an underground prison, the children and their bus driver escaped by digging their way out. They stayed underground for about 16 hours.
But instead of taking the survivors to a hospital or hotel, police decided to put them all back on a bus and take them to the closest place they could be held – the Santa Rita Rehabilitation Center – a Local jail. They were interrogated for four hours and then finally taken home. Heffington painfully recalled being reunited with his family, "Nothing was the same. Nothing was the same after that…"
Although most of the children were not physically harmed by the abduction, they all went through an unimaginable emotional ordeal. At the time, sending them to Disneyland—the "happiest place on earth"—was a way many felt could help children forget the trauma they had endured. Larry Park, who was just 6 years old when he was kidnapped, told "48 Hours," "Everyone thought it was great because the good memories of Disneyland would overshadow the bad memories of the kidnapping."
But it was not that simple. Many children struggled to move forward and suffered lifelong psychological scars. Unfortunately, in 1976, little was known about treating childhood trauma. In many cases, parents did not know much about therapy or did not encourage it.
Heffington told "48 Hours" that he struggled throughout his life to find peace of mind. "How that day affected me, every day affects me in some way," she said. "I think she made me not a good daughter, not a good sister, not a good aunt, and especially not a good mother… I try to be those things. But it seems, she Something was taken from me that I can never get back. And I can't tear away…no matter how hard I try and no matter what I do."
The kidnappers, Fred Woods and brothers Richard and James Schoenfeld, were eventually sentenced to life in prison with the possibility of parole. This meant they would have a parole hearing every year or two. Jill Kling was an assistant district attorney for Alameda County. He told "48 Hours" that the parole hearing was extremely traumatic for the survivors. "Every time one of the kidnappers came up for parole, it caused them fear and shock," he said.
For the three kidnappers, a total of more than 60 parole hearings have been held so far. Judy Heffington went to almost all of them and even witnessed some. "It's annoying, and it never ends well," he told "48 Hours." But she said she went because she wanted to make sure the kidnappers stayed behind bars.
Heffington and other survivors watched helplessly as Richard Schoenfeld was paroled in 2012 and James Schoenfeld was released in 2015.
Heffington died in January 2021. She was 55 years old.
ear old. Fourteen months later, Fred Woods, the last of the three kidnappers, appeared before the parole board for the 18th time. He got parole.
Heffington leaves behind a son, Matthew Medrano, who wants his mother's voice to be heard. In a letter to "48 Hours," she wrote, "I ask all the little girls who have been forced to feel scared, suppressed or unrepresented, please let Judy's words and her truth speak."
Program Notes*: Due to the NCAA Men's Basketball Tournament on CBS, there may be a "48 hour" delay in the Eastern and Central time zones.